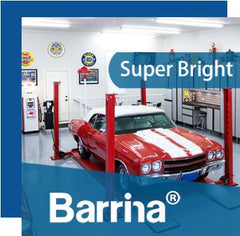 Barrina Lighting, since its incorporation in 2010, focused on the research, design, development and manufacturing of LED shop lights, LED linear lights and LED grow lights.

By applying the latest advances in high efficiency, solid-state lighting, quick docking structure and smart controls technology, our team provides worldwide customers new led lights that deliver clear benefits at a competitive price. With its ten years of experience, strong in-house capabilities, and a rich culture founded on innovation, Barrina Lighting sets the pace in the lighting industry and has been prominently distinguished from its competition. In 2017 Barrina led integrated fixture was selected as the Best Garage Lighting for your home on Amazon. In 2020 Barrina led grow light strip was selected as the 10 Best LED Grow Light Strips.

Nowadays, Barrina has passed ISO9001: 2000 management certification, with a complete quality management system and has more than 500 employees and dedicated teams of R&D, engineers and quality control experts on led commercial lighting and plant grow lighting development. Manufacturing facilities cover a total land area of 200,000 square feet.

From LED shop lights, LED linear lights to LED grow lights, Barrina Lighting goes the extra mile to make a difference. It's the tradition of relentless innovation that makes Barrina stand out in the global market. Being one of best seller of led shop lights and plant grow lights. Barrina Lighting has built itself a unique blend of advantages that have been maximizing the value of technological innovation and ultimately drive unparalleled profitability.

Furthermore Barrina attach great importance to customer experience and value every constructive feedback from them to improve products and services. Today, Barrina offers a wide variety of cost effective, high quality led products for every facet of life and committed to providing each customer with the highest standard of customer service.

Barrina Mission: To become the most trusted LED lighting supplier through outstanding service and impeccable quality.