LED Linear Light and Suspended Ceiling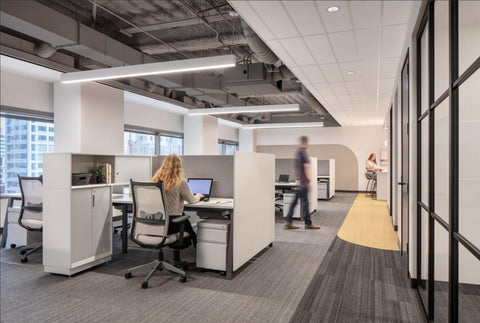 With the development and popularization of linear light, suspended ceiling designed has become declining in office and commercial decoration.

Few years ago, flat panel light was the main choice for people. Complicated process and enough suspended ceiling height are necessary for this light. It is a flat decoration style cause monotonous and depressing atmosphere.

The advantage of LED linear light is good compatibility style designed with the environment, such as contemporary decorating or postmodern decorated style. Most of all, it can be mounted directly to the ceiling and does not rely on suspended ceiling anymore. The hanging chain designed makes the light easily avoid ceiling beam and install free-style, even directly mount on ceiling. Silicon Valley Bank Offices and Confidential Public Agency Headquarters are excellent examples of application that we can see, which perfectly fit linear lights into their office environment.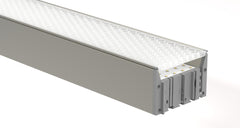 The LED linear lights can be combined into arbitrary shapes, even a circle. But there is a difficulty point of installation when connected into more than 40 Ft length. Conventional installation needs to use the internal bolts lateral positioning the light and connect with the internally pre-wired terminal then lock the plate on the back end. The whole installation process is extremely complicated, worker must be very professional. This structure has a shortcoming either that it is unable to repair an individual light by after-sale. It needs to be pulled away with force laterally and dismantle entire group of light for repair a single light, because of the locked screws.

Barrina's specific invention patent design is a perfect solution to this point. We have been committed to high-end lighting in research and development. And the linear light series is successfully applied for a number of international invention patent, including the connection technology. Symmetrical construction plugs and butting structure from top to bottom, combine without any tools. Experimental result shows the entire docking process only takes one second. Barrina linear light has used the most advanced cutting instruments to guarantee the perpendicularity of cross-section that makes the lights combine seamless and visually look like a single light for the best user experience.

Depend on the unique advantages of the linear light, we believe more and more places will be applied in the future.
0 comments